I have built a website on my Linux host and i'm using MySQL to display and control data. I have a base set of results that gets sent to MySQL server from users devices. This is what that table looks like.
CREATE TABLE appfilter.userapps (




  name varchar(50) DEFAULT NULL,




  activity varchar(120) NOT NULL,




  class varchar(120) NOT NULL,




  device varchar(50) DEFAULT NULL,




  version varchar(50) DEFAULT NULL,




  theme varchar(50) DEFAULT NULL,




  date varchar(50) NOT NULL




)




ENGINE = INNODB




AVG_ROW_LENGTH = 149




CHARACTER SET utf8




COLLATE utf8_unicode_ci;



This table cannot change. I have many developers using my base source code and is on tens of thousands devices. I could change it but it would take a while to get back out to users.
So that data builds a results table that supplies info on how popular apps are.
These are the tables that I currently have to control that.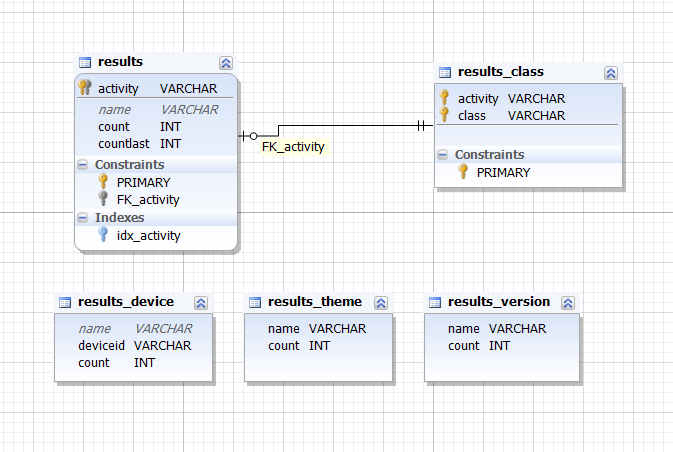 Now this website i have created takes the users current data and compares to my data received from users devices.
Here is the table that is created for users to upload their data to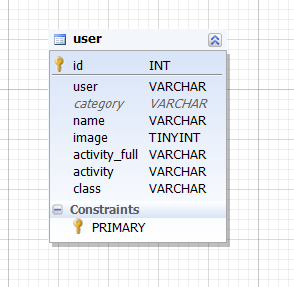 So, here is where I am at. I know that my data is not normalized at all. My results are pretty quick on site but I know if i setup everything proper I could be doing much better. I have tried to research on my own and I cannot figure out how to get everything in tables and where to index, add foreign keys, etc....
Some background on the data im manipulating.
The user table
user - current user uploading data to site
category - category the app falls into (this will vary from user to user)
name - name of the app
activity full - concatenation of activity + / + class
activity - unique identifier to the app (some apps can have duplicates only if the old one is not working anymore)
class - the main class file for the activity. ONE activity can have MANY classes.
The results table
activity - same as above
name - name of the app
count - number of times the app was send to my server from users device
countlast - last count before i run update to see how big app has grown
The results_class table
activity - same as above
class - same as above
the results device, theme and version are used to determine stats about how the data in results is built
Main comparisons I do on site are as follows
- compare user uploaded activity to results activity to see what they are not including. Its sorted by count so they can see the most popular first.
- Add classes to users data. So if they have an activity name but not ALL classes i add them.