Using VMM and clustered 2012R2 Hyper-V hosts.
The virtualized guest machine is also the VMM server in our environment.
1. I try to add a vNIC via VMM to the guest machine, but that is not possible when it is turned on.
2. I turn it off, and try to add a vNIC to the guest machine via the Hyper-V manager on the host where the VM is running. This is not possible due to the error below: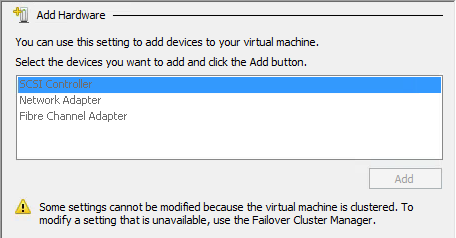 "Some settings cannot be modified because the virtual machine is clustered. To modify a setting that is unavailable, use the Faileover Cluster Manager."
3. I install the Failover Cluster Manager on the host and connect to the cluster it is a part of, but I can't see any option there to configure the VM guests vNIC and virtual hardware(as I expected).
So I am stuck. How is this done?