I need to create a SharePoint page that displays four lists that are filtered on an 'Item'.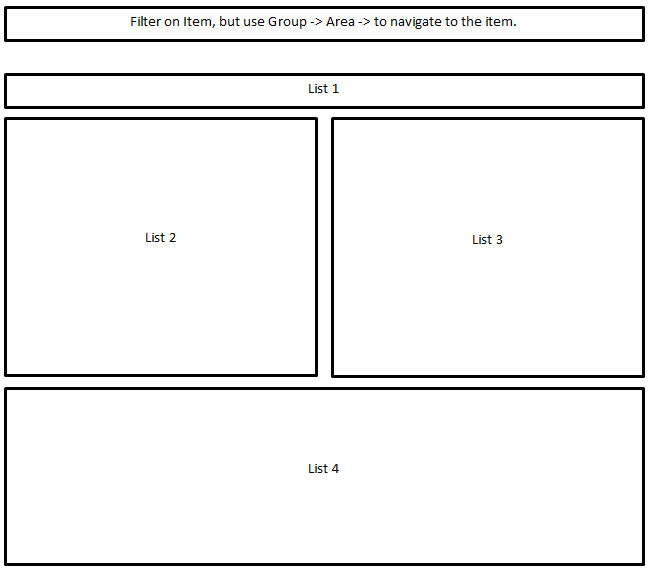 The structure that I need to filter on is in a hierarchy with three levels (An example is shown in :
* Group (Currently 4 groups)
* Area (Currently ~100 areas)
* Item (Currently ~400 items)
Each of the four lists has 'Item' in each list (Each of the 400 items are unique).
First I tried using Managed Metadata
Since the hierarchy is used in multiple places across the site, I tried using the term store to create a Managed
Metadata column. This provided an effective navigating structure when using the column headings at the top of a single list. But I was unable to select this column as an option when filtering. Our SharePoint functionality is fairly 'locked down' (Searching is also locked down in our organisation) and I don't appear to have access to the Content Query Web Part.
Then I tried using a Flat Structure
I also tried using a flat structure with columns Group, Area and Item, then looking up these columns in the other list. Item was the main column (where the hyperlink is). When I did this Item is no longer available in the List Filter. It would also mean that there would need to be three connected filters, rather than simply one which would make the page even busier.
What should I be doing?
Regards,
Nikki