Folks,
Using the attached 2010 workbook I've been trying to establish a connection so I can use MSQuery. The attached workbook, tab labeled "Sales List" is my data source (the attached workbook is clean and is what I've been using- I've copied and pasted values into this new workbook making sure that the Range Manager was empty). I'm selecting the correct driver for Excel, yet when I "Select a default table for your data source" there is nothing there. I've researched through the Internet and tried all what's been suggested, even working through Word's Mail Merge. I've tried with the file saved in an Excel 2003 format. The results are always the same.
This problem is not unique to 2010 - I've have the same problem on my 2013 machine getting the same results - "This data source contains no visible tables".
I do not why I'm having this problem or how to make this work. My OS is Windows 7 on both machines.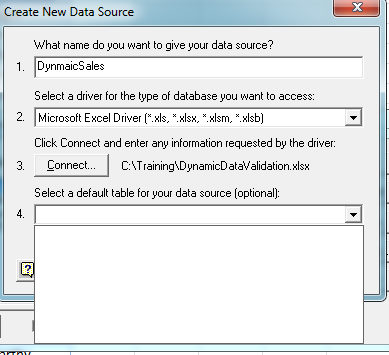 DynamicDataValidation.xlsx