Hi all!
Here the situation:
I have to manage 2 HyperV hosts. Both Windows 2008 R2 and not clustered. There is some sort of SAN, nobodies knows how it's configured. Can't find any management software in the network.
The HyperV hosts have the following disk configuration:
Host 1
Capacity Free Space
OS (C:) 100 GB 16 GB
APPL (O:) Basic 100 GB 31 GB
DATA (D:) Basic 36 GB 6 GB
DATA (L:) Basic 1024 GB 165 GB
SOFTWARE (P:) Basic 600 GB 531 GB
Data2 (E:) Basic 60 GB 32 GB
Data3 (F:) Basic 60 GB 45 GB
VHD (G:) Basic 135 GB 34 GB
Host 2
OS (C:) Basic 100 GB 36 GB
DATA (D:) 16 GB 34 GB
Data2 (I:) Basic 60 GB 57 GB
DATA (Z:) Basic 800 GB 165 GB
The properties of the disks show something like this;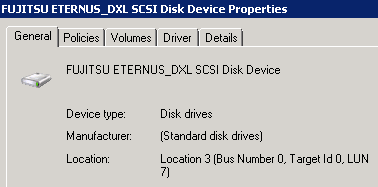 On both hosts there are disks that seem to be copies of other disks, and they show 'offline'. The error message is;
'The disk is offline because of policy set by an administrator'.
Other disks that are offline show an error message like;
'The disk is offline because it has a redundant path with another device'.
My questions:
Am i dealing with a SAN?
What kind of SAN?
How can I manage and configure it properly?
What do the errors indicate?