I have been stumped for 3 days now trying to figure out what is causing the conversion issues when I try to convert three data fields (all 2 position numeric) to give such skewed results.
I have three fields PSEFDA = day of month
PSEFMO = month
PSEFYR = year
I am trying to concatenate them (mm *100 + dd + yy) and then convert them to datetime, giving a result of
1900-01-01 00:00:00:000 if the fields are zeros or the actual date.
There is a century field seems to be 0 = 1900's
1= 2000
I realize that it would be helpful to use this field to determine the correct century for the year but I thought I would at least get the dates working first.
The odd thing is the dates in the file show one thing and the results from query show another.
In example:
Here is a screen print of raw data: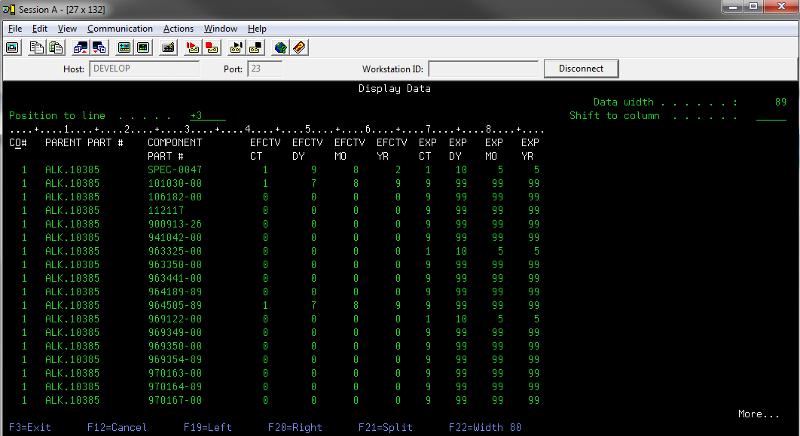 Parent Part ALK.10385 , component part # SPEC-0047 shows in the raw data as century =1 , month =8, day = 9 and year =2 so effectively the date is 08-09-2002. On my results after running the script below the same exact part & component gives a date of 1902-03-23. I am sure that I am not the first to have this occur but I sure do not know what I am doing wrong. Any help would certainly be appreciated.
I have a 2nd field in this data table that I need to convert too, but I have not gotten that far...
here is the query
 SELECT	 




				  cast('YES' as nvarchar(3))  as [BOM_APPROVED]




				    ,' ' as [BOM_APPROVERPARTYNAME]




				   ,' ' as [BOM_APPROVERPARTYNUMBER]




				   ,' ' as [BOM_APPROVERPERSONNELNUMBER]




				   ,[PSPMRN] as [BOM_BOMID]   




				   ,' ' as [BOM_CHECKBOM]




				   ,' ' as  [BOM_ITEMGROUPID]




				   ,[IMDSC] as[BOM_NAME]




				   ,' ' as [BOM_ROUTE_CONFIGGROUPID]




				   ,' ' as [BOM_ROUTE_LINENUM]




			       ,' ' as [BOM_ROUTE_NAME]




				   ,'Variable' as [BOMCONSUMP]




				   ,CASE WHEN [PSQTY] > 0 THEN [PSQTY] ELSE 1 END as [BOMQTY]




				   ,1 as [BOMQTYSERIE]




				   ,CASE WHEN [IMPHAN] in ('N','P') THEN 'Phantom' 




					     WHEN [IMPHAN] = ' ' THEN 'ITEM' 




					 END as [BOMTYPE]




				   ,'YES' as [CALCULATION]




				   ,' ' as [CONFIGGROUPID]




				   ,' ' as [CONFIGID]




				   ,' ' as [CONSTANT]




				   ,' ' as [DEFINITIONGROUP]  




				   ,' ' as [DENSITY]




				   ,' ' as [DEPTH]




				   ,' ' as [ENDSCHEDCONSUMP]




				   ,' ' as [EXECUTIONID]    




				   ,' ' as [FORMULA]




				   ,PSCMRN 




				   ,pspmrn  ------------------------------------------------------------------------------




			 




					,CAST(




						   PSEFMO *100 +




						  RIGHT('0' + CAST(PSEFDA AS VARCHAR(2)), 2) +




						     PSEFYR *10000   




					   AS DATETIME)




 				          




				   ,' ' as [INVENTBATCHID]




				   ,' ' as [INVENTCOLORID]




				   ,' ' as [INVENTDIMID]




				   ,' ' as [INVENTLOCATIONID]




				   ,' ' as [INVENTSERIALID]




				   ,'01' as [INVENTSITEID]




				   ,' ' as [INVENTSIZEID]




				   ,' ' as [INVENTSTYLEID]




				   ,' ' as [ISSELECTED]




				   ,' ' as [ITEMBOMID]




				   ,[PSPMRN] as [ITEMID]   




				   ,' '  as [ITEMPBAID]




				   ,' ' as [ITEMROUTEID]




				   ,CASE WHEN [PSSEQ] > 0 THEN [PSSEQ] ELSE 1 END as [LINENUM]  




				   ,' ' as [OPRNUM]




				   ,' ' as [PDSBASEVALUE]




				   ,' ' as [PDSCWQTY]




				   ,' ' as [PDSINGREDIENTTYPE]




				   ,' ' as [PDSINHERITCOPRODUCTBATCHATTRIB]




				   ,' ' as [PDSINHERITCOPRODUCTSHELFLIFE




				   ,' ' as [PDSINHERITENDITEMBATCHATTRIB]




				   ,' ' as [PDSINHERITCOPRODUCTSHELFLIFE]




				   ,' ' as [PDSINHERITENDITEMBATCHATTRIB]




				   ,' ' as [PDSINHERITENDITEMSHELFLIFE]




				   ,' ' as [PMFFORMULAPCT]




				   ,' ' as [PMFPCTENABLE]




				   ,' ' as [PMFPLANGROUPID]




				   ,' ' as [PMFPLANGROUPPRIORITY]




				   ,' ' as [PMFSCALABLE]




				   ,' ' as [POSITION]




				   ,'FINISH' as [PRODFLUSHINGPRINCIP]




				   ,' ' as [PROJSETSUBPRODTOCONSUMED]




				   ,' ' as [ROUNDUP]




				   ,' ' as [ROUNDUPQTY]




				   ,' ' as [ROWID]




				   ,' ' as [SCRAPCONST]




				   ,' ' as [SCRAPVAR]




				   ,CONCAT([PSEXDA], ' ',[PSEXMO],' ',[PSEXYR]) as [TODATE]




				   ,' ' as [TRANSFERSTATUS]




				   ,' ' as [UNITID]




				   ,'  ' as [VENDID]




				   ,' ' as [WIDTH]




				   ,' ' as [WMSLOCATIONID]




				   ,'  ' as [WMSPALLETID]




				   ,' ' as [WRKCTRCONSUMPTION]




				   ,1  as [RECVERSION]




				   ,1  as [PARTITION] 




				   ,1  as [RECID]





				  




              






 FROM OPENQUERY  




      (KBM400MFG,





	 ' SELECT      




				    [PSPMRN]  




				   ,[IMDSC] 




				   ,[PSQTY] 




				   ,[PSEFCT] 




				   ,[IMPHAN] 




				   ,[PSEFDA]




				   ,[PSEFMO]




				   ,[PSEFYR] 




				   ,[PSSEQ] 




				   ,[PSEXDA]




				   ,[PSEXMO]




				   ,[PSEXYR] 




				   ,PSCMRN




				                      




				 




	 




   FROM  [KBM400MFG].[FKITMSTR] B




    INNER JOIN  [S1022466].[KBM400MFG].[FKPSTRUC] C on  B.IMPN  =  C.PSPMRN and B.IMCO = C.PSCO 




   '   




   ) AS A 



test.rpt