Hello. I am supporting a small business with a single dedicated Exchange 2010 server. Today, I was informed that email was no longer working. After checking into it, they had not paid AT&T their web host provider and their DNS host in a few months. Consequently their DNS record was erased. I recreated it using the Google settings - they use Google (formerly Postini) for hosted email hygeine for inbound and outbound mail.
Previous to the DNS shutdown, email worked fine for all inbound and outbound mail as well as Outlook Web Access and ActiveSync.
A few hours after recreating the DNS database with their MX records pointing to the Google servers and the A records pointing the smtp.company.com email address, I was able to resolve the local server and connect using Outlook Web Access. However, no phones are able to connect with ActiveSync. I can load OWA on my iPhone, but I'm unable to get mail on it using ActiveSync. I triple checked the settings, ensured that IIS was running and that the ASP.NET services were running as well.
Here is the current DNS record - the 216 address is the web host and the 64 address is the physical address of the router on site.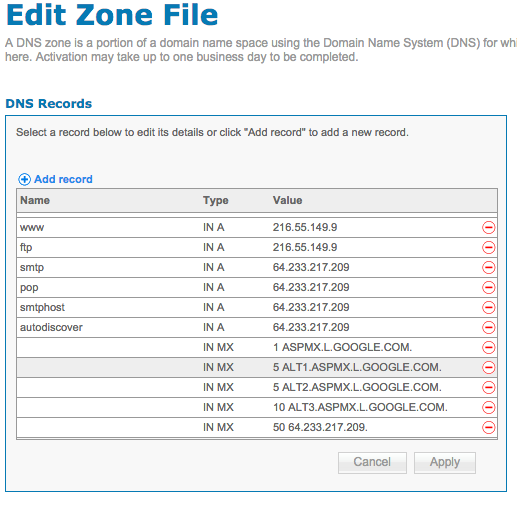 Any help is greatly appreciated.
Thanks,
-Ted