Hi,
I have a simple SSIS package that selects data from a Sybase database table and then populates the data into a different table in the same Sybase database.
I am using an OLEDB source and target.
When I run the package from my development PC it runs perfectly and inserts the data. When I run the package from my production server (SQL Server 2008) it completes successfully and inserts all the required records BUT the string fields are inserted with blank spaces to fill up the column.
For example column "Depot" is set as datatype CHAR(4) - I also tried VARCHAR(4)
> development PC inserts the depot as "BWL"
> production server inserts the depot as "BWL " with a space to make up 4 characters
I am using the same sybase database and table for development and production tests.
When I opened the package on my production server I had to change the source and target OLEDB setting "AlwaysUseDefaultCodePage"
to True, whereas the package worked fine on the development PC with a value of False. If I leave this setting as False on the production server I get the following warning.

This is what the data flow looks like: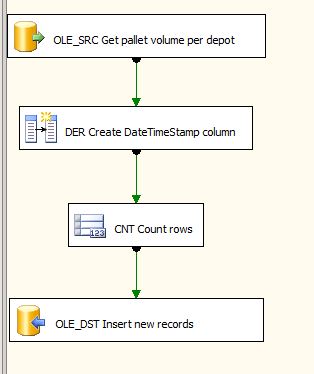 Has anyone had this issue before?
Thanks, Greg