Windows 7 Professional SP1, and Internet Explorer 10, on various machines including a virtual machine in Hyper-V. The computers are in a Windows Server 2012 R2 domain environment
I'm experiencing weird slow performance in Internet Explorer 10.
Intermittently, when I type an address into the address bar, e.g.
www.hotmail.com
, it sits there with the circle spinning, saying "Waiting for hotmail.com", for about 30-40 seconds, then loads the page.
It's not a network issue. The Internet and local network infrastructure is fast and reliable, and Google Chrome works fine
It's not a spyware/virus/local PC issue. The problem happens on ALL computers, even recently re-imaged PCs, there is no proxy settings, no DPI happening on the firewall
It's not an issue with a specific website. It happens on ALL websites, including highly available and fast websites like Gmail.com or Google.com
It happens only in Internet Explorer. Google Chrome fast as usual.
I went into the F12 Debugging Tools and ran a Network Profiler, and it comes back with some interesting results. See the pictures below: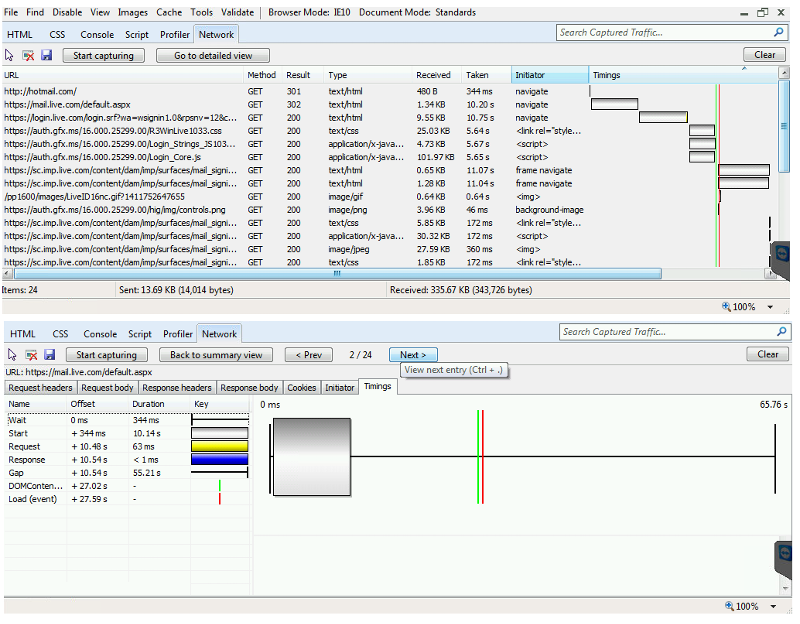 You can see how the actual request / response is almost instantaneous. The "start" time is enormous - 10 seconds or more. Most of the records in the Network Profile are like that.
This usually only happens a couple of times, after that the "Start" time drops down to half a second, and pages load much faster. But every once in a while a webpage will take over a minute to load, and users are constantly complaining that the "Internet is slow".
What is going on? What does the "Start" time mean in IE?