I am looking for some ideas with regard to finding a set of switches to replace my HP ProCurve 26xx's and 28xx. Right now, we have about 6 28xx and 1 26xx with one of the 28xx acting as a "warm" standby in case of failure. What I mean by "warm" standby is that it is powered on, and attached to the backplane, but no clients are connected to it. This switch will be connected to clients only if one of the other switches fails. So kind of like a cold standby, except it is connected to the tail end of the backplane.
I want some recommendations of some 24 port or 48 port replacements where I would still keep one as a "warm" standby, but I want to be able to do "distributed link aggregation" across switches as shown here...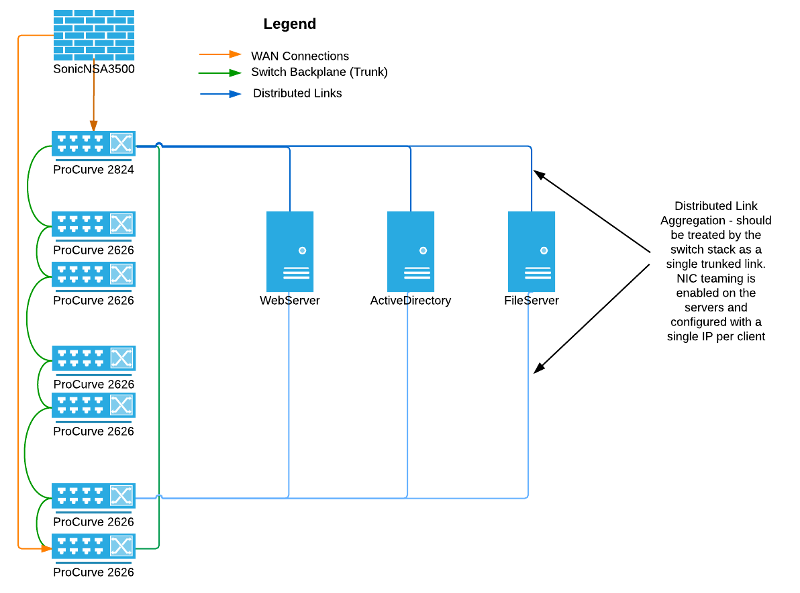 The servers in the diagram are connected to switches on the top and the bottom of the switch stack, so if there's a failure, clients will have redundant connections to each nic. This means the switches need to support distributed link aggregation across different devices in the stack.
What do the experts recommend for switch hardware that supports this feature and may still be easy on the budget? PoE is not required for this application.
OR
do you have a recommendation for a different approach all-together to make the network robust and resist failure?