Hi. We've had event ID 4515 showing in the DNS Event Viewer for a while now and was wondering if someone could help me clear it.
The message is attached.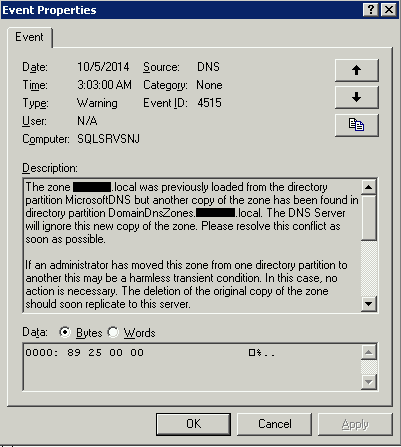 I'm not really fully comprehending what this is trying to tell me.
We have one domain and 3 subnets (1.xx, 2.xx and 3.xx).
The DNS snap-in is shown below. I've expanded everything as much as possible to try and give you an idea of how its setup.
Please let me know how to proceed or if you need additional information.
I also see that the
DOMAIN
.local sites show NYC which is an old branch that no longer exists.
It's not shown under the DomainDnsZones or ForestDnsZones. Can I safely delete that?
The MS website shows the following as one of the possible reasons we'd see this message:
The replication scope for Windows 2000 Active Directory integrated DNS zones are transitioned to domain DNS application partitions or to forest-wide DNS application partitions that are supported by Windows Server 2003 domain controllers.
Our domain used to be Windows 2000 throughout and we eventually migrated to Server 2003. Is this relevant?