I have a report that I'm trying to calculate some running value, but can't seem to get it to work correctly.
Example: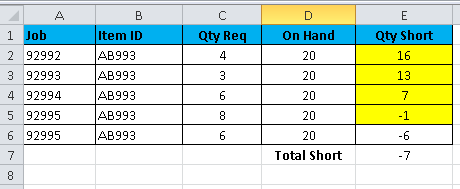 So the above example is how my report is. The column E "Qty Short" is my running value. I'm trying to take (On hand) - (Qty Req) = Qty Short.
This is what I had done, but it's not working correctly.
=RunningValue(Fields!Qty_R
eq.Value, Sum, "table1_group1")
I'm not even sure if runningvalue is the right function to use. Basically, I just want to take my "On Hand" and subtract the "Qty Req" to determine how many qty I'm short of.