Hi Everyone,
I have a small Mac network with 3 Macs. The all connect to an AirPort Time Capsule on which I have setup a single shared folder and granted Read/Write permission to all 3 users. I updated the newest Mac to 10.9.5. Although, it can still access the folder it cannot open the Office documents (see attachments)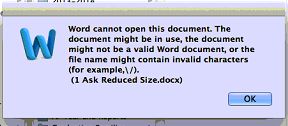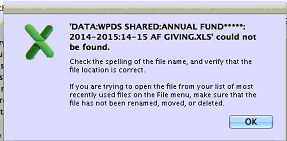 . Strangely, it has no problems opening the PDF files in the same folder.
I have tried to:
-Save a test document to the folder without success
-Renaming the files (many of them are named #1 donors list 2014, #2 donors list 2014, etc).
-Checking for MS Office 2011 updates (none)
Any assistance would be appreciated.