I'm trying to create a rate chart in SSRS 2008 R2. It actually combines data from 2 source queries:
1) Time-series RATE data, which is shown in green while the machine is running
2) Event DOWNTIME data, which are the intervals shown in red and yellow at full height.

My first attempt was to use a range chart in SSRS, but the problem is you can't overlay a line/column/area chart on top of a range chart.
My second attempt was to use an area chart and line chart together, which is possible in SSRS.
Let me explain the dataset a bit: RATE and DOWNTIME data come from two different queries, as the timestamps do not align well to join them cleanly. I changed the output of both queries so that they match and combined them, adding an additional field called SourceType ("DT" vs "Rate") to be able to differentiate them within one dataset.
So far, I've been able to visualize the DOWNTIME event data (with rate inflated to the max for the set - 1400) to an area chart, but in order to do so, I had to introduce a Category Group to filter on the DT data only. Now I'm trying to add a line series on the same chart, tied to the RATE data, but because of the Category Group, I get this: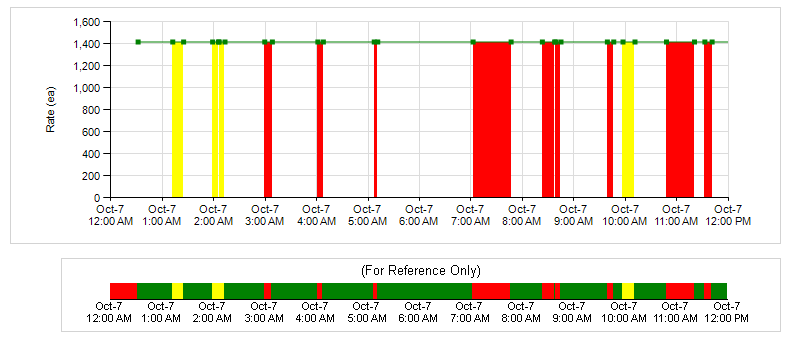 Here is the Design view for a little better context: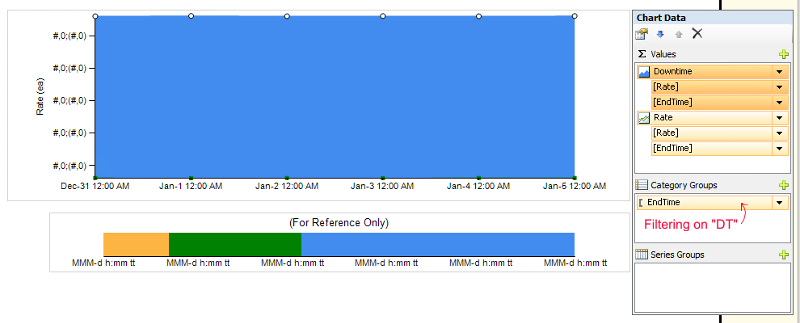 My question is, how can I have the Rate line series use the filter "SourceType = Rate" instead of the filter applied to the Category Group as shown?
Thanks
Jeff