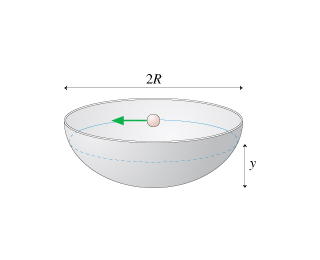 What is the angular speed (w) in rpms if R is .30m and the ball is halfway up?
I found an expression for the ball's angular velocity (w) in terms of R, g, and y (y is the ball's height, as shown in the picture)
and the expression is: w = sqrt(g/(R-y))
And I don't know if this i relevant, but i found an expression for the ball's minimum speed for moving in a circle:
w = [sqrt(Rg)]/R
So far, I have tried using the first equation with the given information to get w = sqrt(9.8/(.3-.15)) = 8.082903769m/s
Then, considering that the circumference is 2piR = .9424777961m = 1rev, I divided w by .9424777961 to get the number of revolutions in 1 second, which i got to be 8.576227262 revs/sec. Then, I multiplied that by 60 to get revolutions per minute which is 514.57 rpms.
The answer is supposed to be rounded to two significant figures, so i entered 510, but it is still wrong. Does anybody know what to do here? I also don't know how to derive the first equation, but my homework website (MasteringPhysics) says that that is what it is.
printscreenphysics.jpg