Dear experts - I am trying to create a query where the user may enter one of several criteria. The problem is that each of these criteria hang off a different table.
Here is the query graphically - I add the DISTINCT keyword, since there are multiple related records in several of the tables: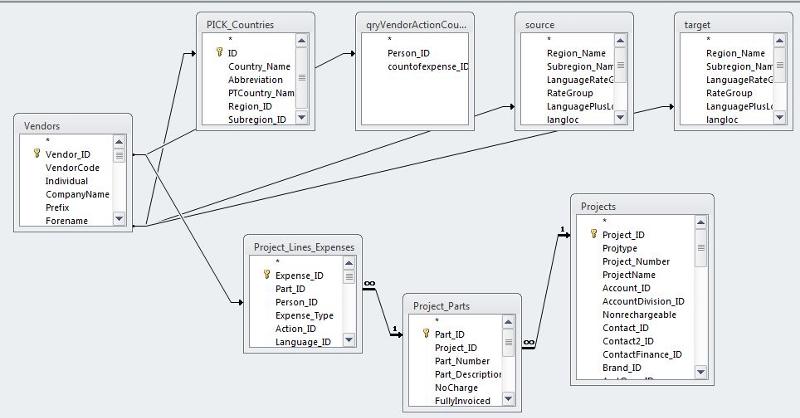 NOW - I am creating a string, which, for example, includes this:
If Nz(Me!cboProject_ID, 0) <> 0 Then
strFilter = strFilter & " And projects.project_ID =" & Me!cboProject_ID
End If
NOTE that there is no field in the results called 'project_ID' - I am actually able to run the query as a standalone and it produces perfect results:
SELECT DISTINCT Vendors.Vendor_ID, Vendors.VendorCode, Vendors.CompanyName, Vendors.Forename, Vendors.Surname, Vendors.Country_ID, Vendors.Tel, Vendors.Cell, Vendors.Email, Vendors.Status, Vendors.Agency, Vendors.LinguisticVendor, Vendors.MedicalVendor, Vendors.Eval_Alert, Vendors.LanguageSource_ID, Vendors.LanguageTarget_ID, Vendors.Language_Details, Vendors.ScreenInitialEval, Vendors.ScreenBy, stripaccents(Nz([vendors].[companyname],"")) AS strippedco, stripaccents(Nz([vendors.forename],"")) AS strippedfirst, stripaccents(Nz([vendors.middlename],"")) AS strippedmiddle, stripaccents(Nz([vendors.surname],"")) AS strippedlast, PICK_Countries.abbreviation AS homecountry, source.abbrev AS source, target.abbrev AS target, source.language_ID AS SourceLangOnly_ID, target.language_ID AS TargetLangOnly_ID, IIf([EVAL_ALERT]=1,"RED FLAG",IIf([eval_alert]=2,"AMBER","")) AS Alert, Switch([Vendors].[status]=1,"Active",[Vendors].[status]=2,"Inactive",[Vendors].[status]=3,"Decommissioned (Inactive)") AS StatusText, GetSubjects([Vendors].[Vendor_ID]) AS Subjects, GetActions([Vendors].[Vendor_ID]) AS Actions, qryVendorActionCount_Last6mos.countofexpense_ID AS CountOfExpense_ID




FROM Projects RIGHT JOIN (Project_Parts RIGHT JOIN (((((Vendors LEFT JOIN PICK_Countries ON Vendors.Country_ID = PICK_Countries.ID) LEFT JOIN qryVendorActionCount_Last6mos ON Vendors.Vendor_ID = qryVendorActionCount_Last6mos.Person_ID) LEFT JOIN LanguagePlusLocale_byID AS source ON Vendors.LanguageSource_ID = source.LanguagePlusLocale_ID) LEFT JOIN LanguagePlusLocale_byID AS target ON Vendors.LanguageTarget_ID = target.LanguagePlusLocale_ID) LEFT JOIN Project_Lines_Expenses ON Vendors.Vendor_ID = Project_Lines_Expenses.Person_ID) ON Project_Parts.Part_ID = Project_Lines_Expenses.Part_ID) ON Projects.Project_ID = Project_Parts.Project_ID




WHERE (((Projects.Project_ID)=2000));



Now, I run the above query WITHIN THE FORM, and I get a ENTER PARAMETER ('projects.project_ID') error.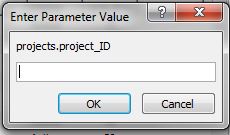 Any guidance is greatly appreciated.