hi experts
when i query my table
select Product, Name, Value, Yearly_Amount from Customer_Research
The data i get is something like this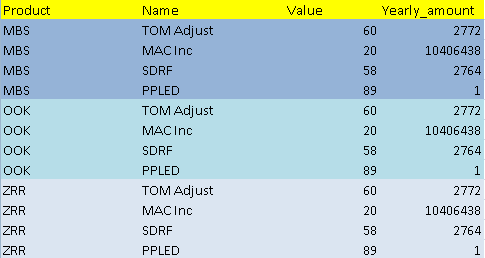 So if you see there are three products MBS,OOK,ZRR. The Name,Value,Yearly_Amount are same for all these products which is
TOM Adjust 60 2772
MAC Inc 20 10406438
SDRF 58 2764
PPLED 89 1
What i am trying to do is to get a result set like this ...

So basically trying to group by Name/Value/Yearly_Amount entries and see the products
But that might not be the best way to represent the data, maybe a little confusing to the user perhaps?
This representation woud be best i think

Is it possible to do what i am trying to do?
Any sugessions would be greatly appreciated.
Thanks.
2.png
2.png
2.png