I have a client who connects to the Internet via a satellite connection. It's relatively fast, but high latency, with a typical ping time of 1000ms or so.
The user had Outlook 2007 installed under Windows 7, and found that, while it occasionally connected to Exchange Online, mostly it was in a Disconnected state. I upgraded that machine to Outlook 2013 to see if it helped, but it hasn't done.
If I run an Autodiscover test at
https://testconnectivity.microsoft.com
for that user, it completes with no problems. So everything's set up correctly at the server end.
If I run Outlook 2013's "Test E-mail Autoconfiguration..." diagnostic with the Autodiscover option only checked (unchecking GuessSmart), it gives the output as shown here: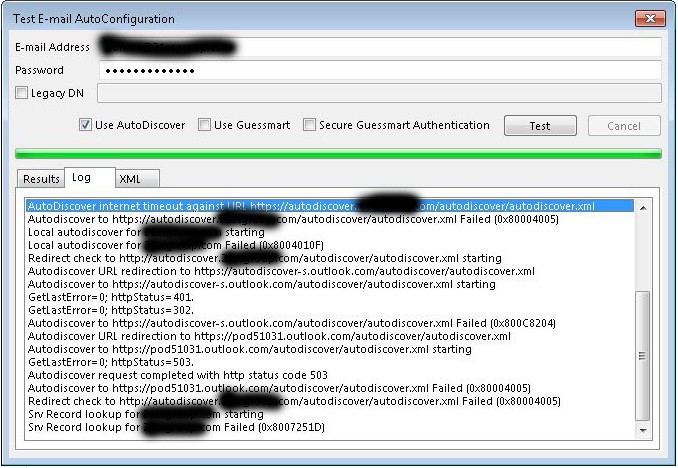 As you can see, the autodiscover request to
https://pod51031.outlook.com
is failing with http status code 503 (which is "Service Unavailable" according to
http://en.wikipedia.org/wiki/List_of_HTTP_status_codes#5xx_Server_Error
).
However, if I run the same test from Outlook 2013 on another machine with an ADSL connection to the Internet, I get this: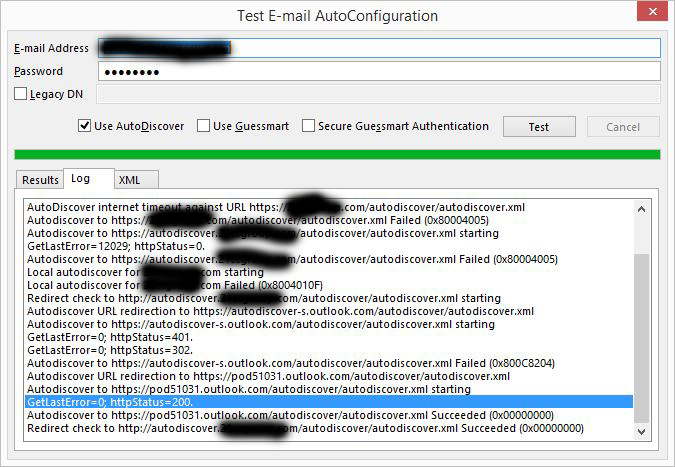 I'm wondering if this is failing on the machine connecting via Satellite Internet because it's timing out. I've not been able to test this theory, however, as I wasn't able to find any options for increasing timeouts for autodiscovery.
Does the timeout theory sound plausible? If so, is there anything that can be done? Alternative theories and suggestions also very welcome!