I am looking for some assistance with my two Hyper-Vs please .
I have a 2 Hyper-v hosts, running Windows 2008 R2. HV-01 has 4 VM's and HV-02 has 5 VM's.
I needed to extend a drive on a guest on HV-01, I shut the guest server down, then on Hyper-V manager I went to: settings > hard drive > edit
I then get an error stating: Unable to edit virtual disk (Screen grab attached).

If I select the option to inspect, I get: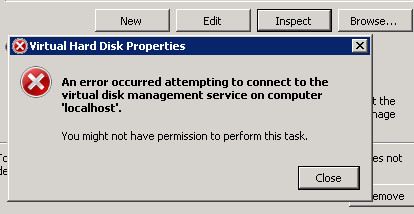 An error occurred attempting to connect to the virtual disk management service on computer localhost.
I checked each of the VM's on the HV-01 machine and the same error occurs when I selected the "Inspect" option. When I checked the VM's running on HV-02 there is not an issue, both of these servers are identical running a failover cluster service with a SAN.
I have restarted the services connected to the Hyper-V's, the permissions of the services are the same on each host to nothing has expired on any account used.
If I reboot the host will all of the guests automatically move onto the HV-02, I think this has been done in the past but can't be sure if the VM's were all taken offline first.
Given the re-boot does not rectify the permissions issue, does anyone have some ideas on where to go with this?
Many thanks in advance.