I have two buildings (A&B), each with three WAN connections:
microwave bridge between only Bldgs A & B
DIA circuit at Bldgs A & B
WAN (switched ethernet) between Bldgs A, B, C, D, E,...
I want to attack connectivity with the radio bridge, but need to look forward so I won't have to reconfigure when the other WAN links are lit up.
Current:
Radio A (10.3.4.10) in a VLAN 4 of Bldg A
VLAN 4 has virtual IP of 10.3.4.1 on Cores in Bldg A
Radio B (10.3.4.11) direct connected to X1 (WAN) port of B-Sonicwall in Bldg B
Bldg B is a flat network 10.5.5.0/24
B-Sonicwall X0 (LAN) is 10.5.5.254
B-Sonicwall X1 (WAN) is 10.3.4.14
Bldg B has default route to 10.5.5.254 (B-Sonicwall X0)
B-Sonicwall has default route to 10.3.4.1 (virt.IP in Bldg A VLAN 4)
Everything is working...basically all traffic that is not in the broadcast domain for 10.5.5.0/24 is routed to the B-Sonicwall. Hops from Radio B to Radio A, then lands in VLAN 4 as traffic from 10.3.4.14 (B-Sonicwall X1 WAN interface).
All traffic comes from Bldg B to Bldg A as routed traffic over the single IP 10.3.4.14 (B-Sonicwall X1 WAN).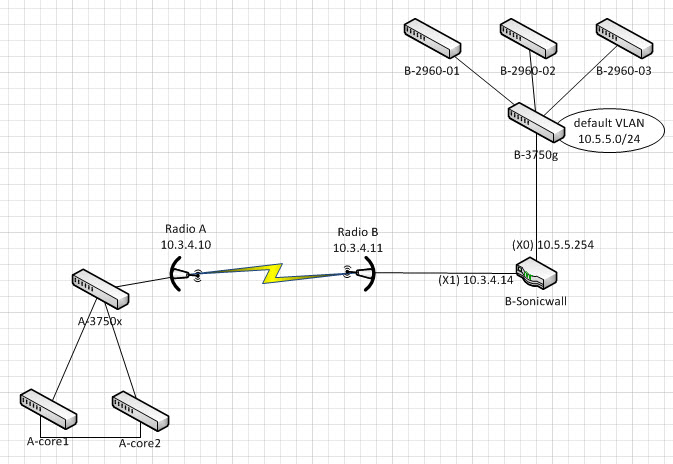 I want to convert this radio bridge into a trunk so that:
traffic will have the true source IP, not routed through a single IP
voice will stay in a specific VLAN back to Bldg A PBX system
Future considerations:
fiber WAN to multi-site will be the primary path between all remote sites
user internet traffic always flow through Bldg A for content filtering
Trunk radios on A-3750x & B-3750g (bypassing the B-Sonicwall).
Copy Bldg A VLANs onto the switches in Bldg B.
Create a new VLAN 5 for Bldg B's devices on _both_ Bldg A & B switches.
Assign VLANs to the ports in Bldg B
Remove IP from B-Sonicwall X1 WAN port (prep for new DIA).
Default route for VLAN 5 is 10.3.4.1 (virt.IP on A-cores)