Hi Experts,
I want to sort me Excel 2013 Sheet Automatically when opening the workbook.
I have a couple of sheets within the workbook but I only want to auto sort the one. "All Devices"
Sheet details..
Row A4:AA4 has the Sheet Headers
Row A5:AA3003 Sheets data (to be sorted)
I want to sort all data from
A5 to AA3003
Sort Column A (Location)
And then Column B (Type)
Screenshot of manual sort attached.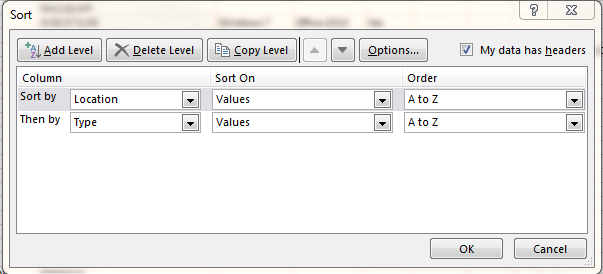 Private Sub Workbook_open()




    




    Range("A4:AA3003").Select




        ActiveWorkbook.Worksheets("All Devices").Sort.SortFields.Clear




        ActiveWorkbook.Worksheets("All Devices").Sort.SortFields.Add Key:=Range( _




            "A4:AA3003"), SortOn:=xlSortOnValues, Order:=xlAscending, DataOption:= _




            xlSortNormal




        ActiveWorkbook.Worksheets("All Devices").Sort.SortFields.Add Key:=Range( _




            "B4:B3003"), SortOn:=xlSortOnValues, Order:=xlAscending, DataOption:= _




            xlSortNormal




        With ActiveWorkbook.Worksheets("All Devices").Sort




            .SetRange Range("A4:AA3003")




            .Header = xlYes




            .MatchCase = False




            .Orientation = xlTopToBottom




            .SortMethod = xlPinYin




            .Apply




        End With




End Sub



Thanks