Folks,
Previously using Exchange Server 2007, I know where to put and assign permission for two different team / group based on their responsibilities and what's available on the AD created by Exchange Server during the installation.
IT help desk AD security group
can be put into Exchange Server Recipient Administrator security group
and
IT Admin AD security group
can be placed into the Exchange Server Organization Administrators
but in the Exchange Server 2010, I cannot find the above AD security group anymore ?
From my current AD Users and Computer console I cannot find the following AD security group displayed below: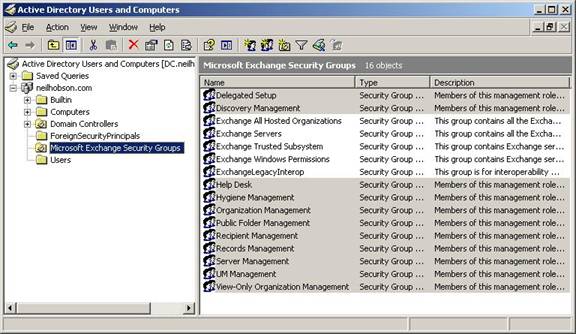 Can anyone please help me here to make sure that I can assign the following group to where it is supposed to be:
IT Helpdesk team group
can do the following:
Create, delegate, change permission or delete user mailbox and contacts
Create or delete Distribution group
IT Admin team group
can do the following:
All of the above team can do plus perform DAG failover
patching and rebooting Exchange Server
change and modify configurations of Exchange Servers
Thanks in advance.