We have 2 Exchange 2007 CAS SP2 with load balance by F5 balancer. Starting this week, 2 users complained that they unable to access the OWA. The page keeping loading after key in credential and ended with page can't be display.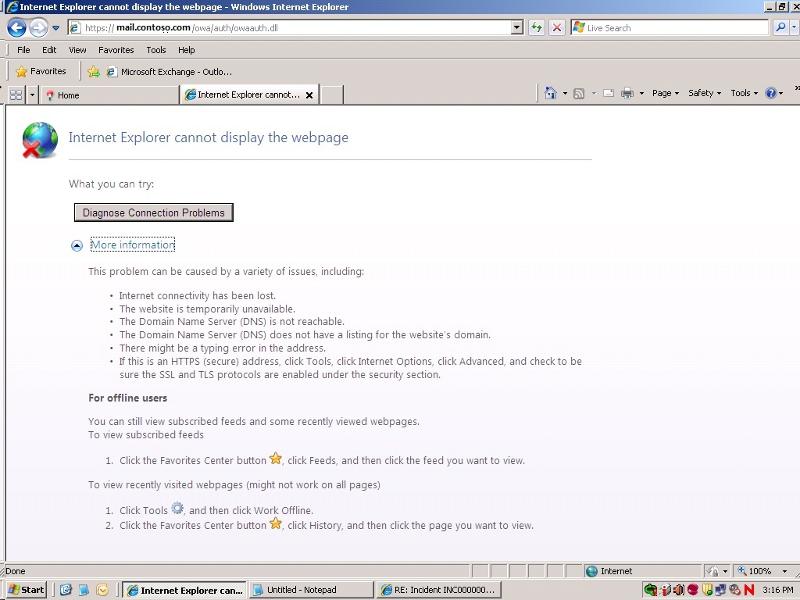 Checked in Application Event viewer found the warning on one of the CAS server. Another CAS doesn't show this event.
EventID : 1309,
Source : ASP.NET 2.0.50727.0
Level : Warning.
Event code: 3005
Event message: An unhandled exception has occurred.
Event time: 11/3/2014 4:47:20 PM
Event time (UTC): 11/3/2014 8:47:20 AM
Event ID: 5cea3b13b1b94e3297dc9459a5d477ee
Event sequence: 367792
Event occurrence: 13
Event detail code: 0

Application information:
Application domain: /LM/W3SVC/1/ROOT/owa-1-130594076511778182
Trust level: Full
Application Virtual Path: /owa
Application Path: C:\Program Files\Microsoft\Exchange Server\ClientAccess\owa\
Machine name: CLKMSEXCA03

Process information:
Process ID: 7628
Process name: w3wp.exe
Account name: NT AUTHORITY\SYSTEM

Exception information:
Exception type: OwaDefaultFolderIdUnavailableException
Exception message: XSO returned null for default folder id Search Folder.

Request information:
Request URL:
Request path:
User host address:
User:
Is authenticated: False
Authentication Type:
Thread account name: NT AUTHORITY\SYSTEM

Thread information:
Thread ID: 3
Thread account name: NT AUTHORITY\SYSTEM
Is impersonating: False
Stack trace: at Microsoft.Exchange.Clients.Owa.Core.UserContext.GetDefaultFolderId(DefaultFolderType defaultFolderType, String folderName)
at Microsoft.Exchange.Clients.Owa.Core.FolderSearch.ClearSearchFolders(UserContext userContext)
at Microsoft.Exchange.Clients.Owa.Core.UserContext.Dispose(Boolean isDisposing)
at Microsoft.Exchange.Clients.Owa.Core.UserContextManager.TerminateSession(UserContext userContext, CacheItemRemovedReason abandonedReason)
at Microsoft.Exchange.Clients.Owa.Core.UserContextManager.UserContextRemovedCallback(String key, Object value, CacheItemRemovedReason reason)
at System.Web.Caching.CacheEntry.CallCacheItemRemovedCallback(CacheItemRemovedCallback callback, CacheItemRemovedReason reason)


Custom event details:

The warning event generated every 30-40 minutes