We have 3 hard drives on RAID 5. One hdd crashed.
I installed open managed and I am able to control; have access to PERC S100.
I powered down server, installed hdd (purchased the same as other two) and powered on server.
When logging into OpenManage I see my RAID5 virtual disk is degraded with two operating drives (0:0 and 0:1). I notice my new drive (0:2) not automatically added to RAID 5, to my virtual disk.
Physical Disks

Virtual Disks

On the Degraded, RAID-5 it give me a couple of drop down options: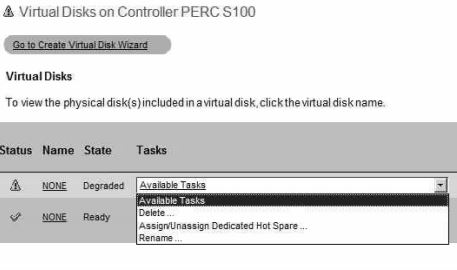 When I click dropdown on Tasks for my other virtual disk (for the new hdd) , it only gives me the option to delete.
I have Dell server, RAID5, PERC S100 using Open Manage.
How can I replace the damaged drive on this machine?
ADDITIONAL NOTES:
On new hdd - I deleted the new drive, under virtual disks and OpenManage froze up and couldnt do anything until I rebooted machine.
On degraded raid5, i tried to assign dedicated hot spare but it said no disks avail.