My customer has SQL Server 2008 R2 Express installed. One of the tables has a primary key QueueID int NOT NULL
I need to change it to QueueID int NOT NULL IDENTITY(1,1)
When I try to do that in the table designer and click Save, I get the attached error message.
I tested it on my own SQL Server 2012 (not express) and it works fine.
Is there some setting I need to change on the customer's SQL Server to allow the change? Or is it s hard-stop restriction in the Express edition?
Best Regards,
Doug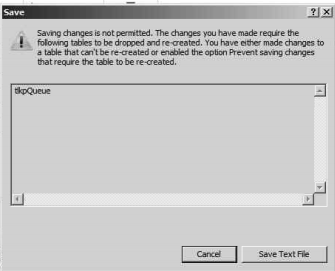 Saving changes is not permitted. The changes you have made require the following tables to be droped and re-created. You have either made the changes to a table that can't be re-created or enabled the option Prevent changes that require the table to be re-created.
Can-t-change-tlkpQueue.PNG