I have a C# winform project in Visual Studio 2010. My customer complained that button text was being cut off, even after I resized the buttons. After further testing, I found that the buttons were resizing when I build the project.
I will resize the buttons larger or smaller, but once I rebuild the project, the Form window refreshes, and the button sizes change. The three buttons on the form always seem to resize back to a width of 75 no matter what I try.
The buttons all have Auto Size = False, and I don't have any code that modifies the button size.
In this example, I resized the button to be small: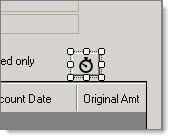 After building the project, the button is back to 75 width:

The only other detail I can find is that in the Form.Designer.cs file, there is a line to set the button size, but it's set to a width of 30, while the button gets resized to 75.

Any ideas as to what might be causing this?
Thanks,
Steve