I need our users to supply a 4 -6 digit PIN number, which will be stored in their account in AD (as customAttribute2), so if/when they phone support, the helpdesk/support tech can ask them for the PIN as a method of authentication.
I'd like to program a small visual basic application that we can roll out to the user's desktop, or get to launch once when the user logons, that will ask them to set the PIN number.
I've just downloaded Visual Studio 2012, and have started programing a small application. I've done some VB Script programming and some very basic visual basic programming a few years ago, however I enjoy the challenge & learning. So far I've build the basic form, with the button's and text/input boxes.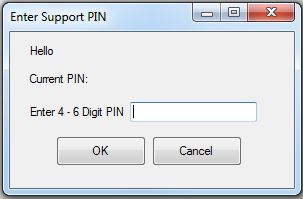 I've got the cancel/exit button, and have set the input box to number only. But I'm having trouble getting it to query Active Directory. I wondered if anyone had some example snippets of code that I could use/modify.
I need code that will get the current logged on user's Windows ID, which will be show in the text box by the 'Hello'.
I also need code that will query CustomAttribute2 for an existing PIN, which will be shown by Current PIN:
Finally code that will update CustomAttribute2 with a new PIN when 'OK' is pressent.
Although I've set the Max length to 6, I'd also like to set a Mix length to 4, but there doesn't seem to be a Min length property.
Code I have so far:
Allow number only:
    Private Sub TextBox1_KeyPress(sender As Object, e As KeyPressEventArgs) Handles TextBox1.KeyPress




        If Not Char.IsDigit(e.KeyChar) And Not Char.IsControl(e.KeyChar) Then




            e.Handled = True




        End If




    End Sub



Get Logged on Windows Username (doesn't work/needs modifying):
 Function GetUserName() As String




        If TypeOf My.User.CurrentPrincipal Is 




          Security.Principal.WindowsPrincipal Then




            Dim parts() As String = Split(My.User.Name, "\")




            Dim username As String = parts(1)




            Return username




        Else




            ' The application is using custom authentication.




            Return My.User.Name




        End If




    End Function