I posted similar on the HP forum over a week ago and to-date have gotten no replies only 89 Views.
I am building a new Backup Exec 2014 server to replace my decrepit Windows 2003 DPM 2007 server.
I have just installed a new HP DL360p G8 server with Windows 2012 R2 and I had ordered it with two Ultra SCSI 320 HP SC11Xe Host Bus Adapters as recommended by HP support. I was planning on attaching to my HP Ultra SCSI 320 LTO4 tape drive and my Ultra SCSI 320 HP StorageWorks MSA20. I have two MSA20 (3TB RAID 5, half in use with DPM 2007, and new one with 4TB RAID 5), one of which is currently attached to my Windows 2003 32-Bit server that this new server is replacing. I attached the new one to the Smart Array Controller 6400 to create the RAID 5 array since windows 2012 R2 could not see it anywhere, so I know it is good.
Windows 2012 R2 apparently no longer supports SCSI. No Drivers for these Ultra SCSI 320 HBA cards. WOW, who would suspect!
Anyway User 'Stampel" kindly helped me (in this post:
http://www.experts-exchange.com/Software/Backup_Restore/Q_28547929.html
) get the SCSI Host adapters installed using a driver from LSI for Windows 2008. They installed without issue and show in Device Manager as: "LSI Adapter, Ultra320 SCSI 2000 series, (w/1020/1030)(StorPort)".
Currently waiting for an Ultra SCSI 320 cable to connect the HP LTO4 tape to see if it recognizes that, if not then definitely going to revert to Windows 2008 R2 as mentioned below as an option.
During the post I see the devices but no way to access, see picture: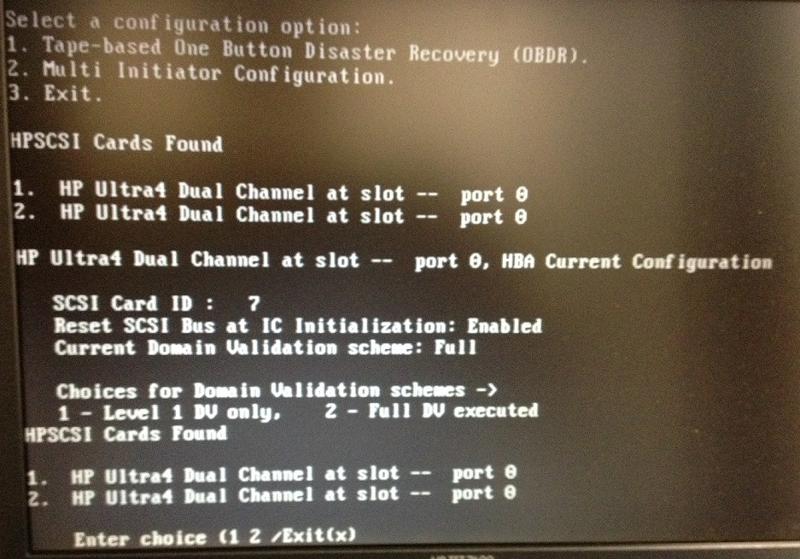 I may be attempting the impossible, but if anyone knows a trick to recognize the MSA20 in Windows 2012 I would appreciate it. HP no longer uses ACU and HP Smart Storage Administrator comes up with only seeing my P420i SAS controller and my c:\RAID 5 volume.
I downloaded ACU for Windows 2012 for a DL360p G6 and it does not see the MSA 20 either.
I was able to open HP Insight diagnostics which only says PCI-E slot 1 in use and PCI-E slot 2 in use.
This is what HP Insight Diagnostics Sees:
My only option is looking like starting over with Windows 2008 R2 if no one has any answers for me.
I thought of a couple of other options:
Attach the Ultra SCSI 320 HP MSA 20 to another Windows 2008 Server and create a share on the network NAS. Attach the HP MSA to a Linux Server and create a shared NAS, through CIFS or Samba??
No experience with either of these options so will take a while to set this up.