Hi SQL server experts,
I've got this some what older SQL server running (version 9.00.5057.00) and I try to make Pivot query work.
I've got this query that is successful on a access database. But now I'd like to make it work in MS SQL.
TRANSFORM Min("X") AS Expr1 SELECT membership.groep FROM membership GROUP BY membership.groep PIVOT membership.username;



But it does not work on my old sql server.
Is this because my server it to old and my SQL server does not support pivoting?
Or is something wrong with my syntax?
The result should show a table with horizontal usernames, vertical groupnames end where they match an X marks the spot.
Below the desired result: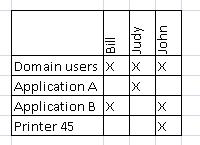 Kind regards,