We have a Windows Server 2008 VM running Microsoft Threat Management Gateway (TMG) 2010.
It is not able to ping a set of 172.16.X.X default gateways on our network.
The Network Topology Routes and Active Server Routes show the appropriate subnets and next hop.
The next hop (Vyatta) has the proper entries. I know this because we also have a sonicwall that pings to the 172.16.X.X subnets just fine and its next hop is the Vyatta as well.
See picture for ping paths.
Only pertinent entries were labeled.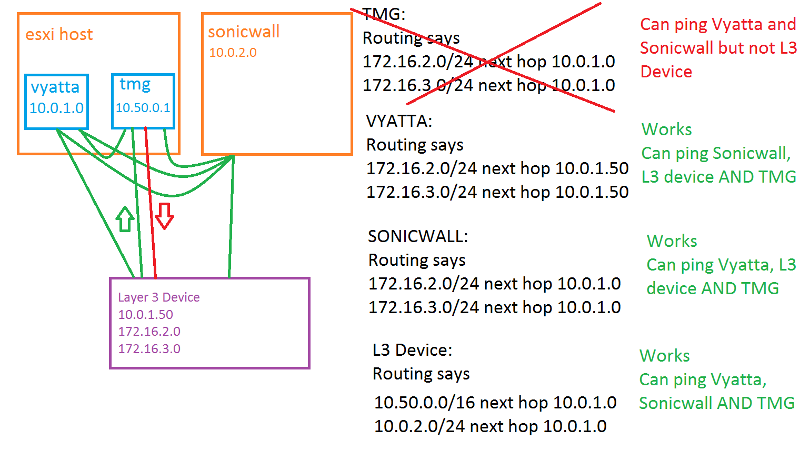 Troubleshooting already performed:
-Rebooted TMG twice
-Removed routing entries and entered them again
-Ensured that the 172.16.X.X subnets are fully allowed to talk back and forth to the TMG LAN network.
-Looked for info on the internet related to this issue (no luck so far)
Note: TMG used to be the default gateway for the 172.16.X.X interfaces until I got a new Layer 3 solution and then deleted the interfaces from the server and VM. I spoke to VMware yesterday and they said from their end, there isn't anything hung up in the VM. I am partially thinking that TMG has something hung up in it about the old default gateways and won't go out to the appropriate next hop when looking for the 172.16.X.X subnets.
Any help would be appreciated.
Ping-Path.png