We have a setup consisting of a networked multi-user BusinessVision installation. BusinessVision is installed on our domain controller (Windows Server 2003 R2) in a network share that users have mapped to as their J: drive. A computer in the shipping department has been set up with UPS Worldship and connected to the database to pull information that is mapped from the database to fields in UPS Worldship. A system DSN was set up using the Pervasive ODBC Engine Interface version 10.30.17.00 that was working fine. Due to organizational changes, file permissions were changed for the share that was mapped to for the BusinessVision database. All users, including this user in shipping, can still use BusinessVision without problems after the change, but the DSN that was connected for UPS now will not communicate with the database.
If I open ODBC Administrator on the shipping computer (Windows 7 Pro, 32 bit) and bring up the UPS system DSN and hit the test button, I get the error "the application encountered a permission error (btrieve error 94)". Screen shot is attached.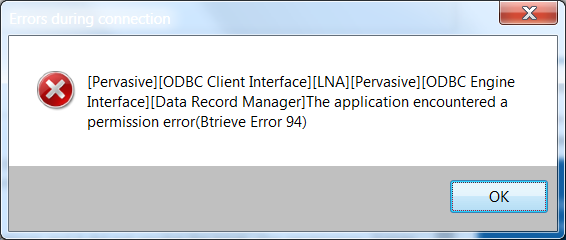 We tried returning the file permissions to the previous settings and it did not resolve the issue. The permissions change was to remove Domain Users from the share and assign permissions to a new user group consisting only of those that we wanted to have access to the BusinessVision database. The allowed users do have full control permissions on both the share and file/directory level.