I'm facing a challenge right now where the Citrix Receiver for Enterprise (a version 3) client is installed on a Windows 7 system after CAG (Citrix Access Gateway Client) has been installed.
I have CAG set to not start up in msconfig. Receiver for Enterprise client was installed after CAG.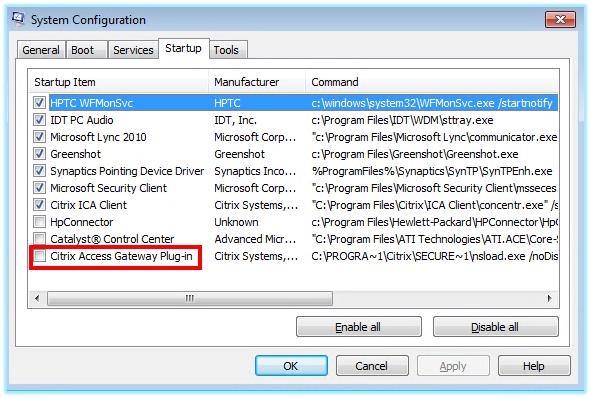 The confusion here is that after the user logs in, there appears to be a black & white "Receiver" icon running in the system tray.

If I right-click it and go to About, there is no Online Plug-in settings.
I see Receiver.exe running in the task manager, but there doesn't appear to be any Online Plug-in connection, as there are no published resources showing on the desktop.

There should auto loading since it was installed with the parameters:
CitrixReceiverEnterprise.e
xe /INCLUDESSON ENABLE_SSON="Yes" /silent
In a batch file, during the deployment of configurations, the "ServerURL" is set via the registry:
o Key: HKLM\Software\Citrix\PNAge
nt
o Value: ServerURL (REG_SZ)
o Data:
http://urltoourserver/config.xml
If I go to the Start menu at this point and open the "Citrix Receiver" application from Start > Programs > Citrix, the icon remains in the system tray but the desktop icons show up that are the published resources.
But why do I have to open this to get it to "connect" (there aren't any prompts--it's pass through).
Is the best practice here to put Citrix Receiver in the "Startup" folder for All Users? It just doesn't seem like a normal thing to do so I'm trying to find out here.