Hi Experts,
I have an Excel Spreadsheet that I want to use as a template for employees to fill in their work availability for any given month.
In cell B9, I have a drop down control with all the months as values (see image 1, below).
In column A, starting at cell A11, I have values 1-31 for the days of the month
In Column B, starting at cell B11, I have a combo box where employees select from the following values (Available, or Not-available)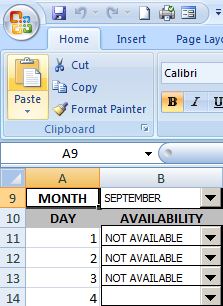 If an employee is submitting his availability for a month with only 30 days, I want the cell in column A with the value 31 and the combo box next to it to become disabled (see image 2, below).

I have used VBA before just not in Excel. How do I do this in Excel 2007? Do I need to use VBA to accomplish this?
Thank you very much in advance,
mrotor