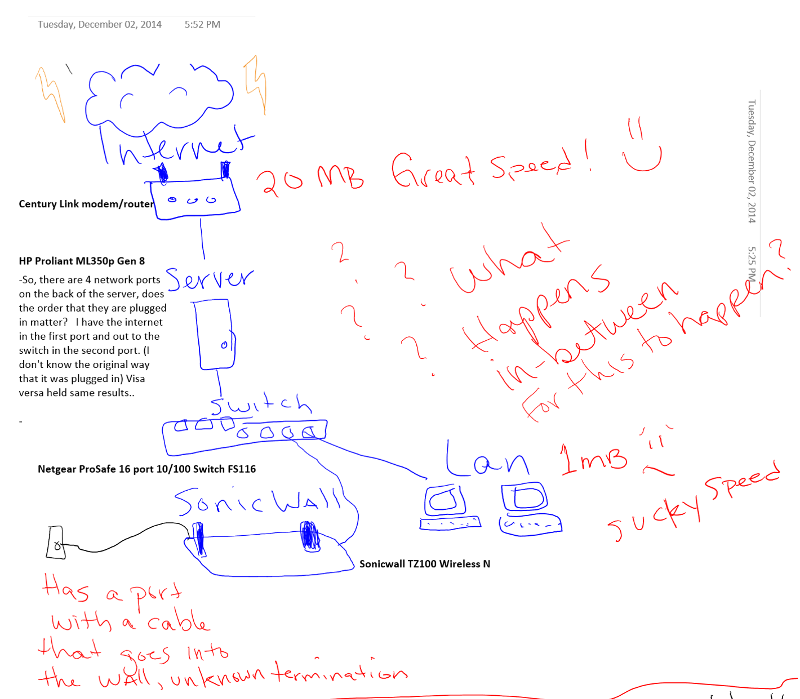 Hello, I have an office that has upgraded their internet. the ISP Tech wouldn't touch the network side to connect the internet so the office ladies attempted to plug it in where they "thought" it should go.. Then they called me.. I am not a network/server professional, i have old (10 yrs past) experience but it is limited. I've attached a picture of the network map that i drew to the best of my knowledge. sorry, it's well, what it is..
When I arrived there was no access to any of the servers or the internet. I connected to the best of my knowledge but am afraid something isn't right...
Here's the situation:
-the ISP has speeds of 20MBs and once the internet is routed through the network, the client pc's are only pulling around 1MBs. This is the same if it is ethernet or wireless..
-There are 4 ethernet ports labelled 1-4 and one below labeled iLO . I plugged the internet into port 1 and the switch into port 2.
-When logged into the server it reflects that the port 1 is a public network and port 2 is the work domain.
Hardware involved:
Server: HP Proliant ML350p Gen8
Sonicwall TZ 100
Netgear Prosafe 16 port 10/100 switch
CenturyLink modem/router
I connected the internet to the server, server to the switch, sonicwall to the switch, all remaining servers/pc's were untouched at the switch..
The sonicwall has another cable coming out of it that goes into the wall, i don't know where it goes after that...
I have exhausted about all the knowledge that i have left. I don't know if further configuration needs to happen at the server or the sonicwall but something is bottlenecking the crap out of the network..
Thank you for your help!!