Randomly we get users that get stuck logging on to the domain with the message "Applying Group Policy Folders Policy":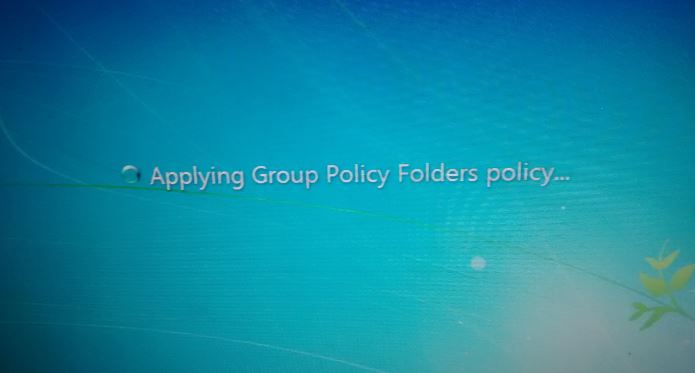 On average we probably get one user (out of approx 200) suffer from this each morning, but sometimes it is no-one and sometimes it is 2 or 3 users.
In order to fix the problem we do the following:
Power off the PC
Log on as local administrator
ipconfig /release then /renew
reboot
log on as domain administrator
log off
Then get the user to log on.
(one or more of these actions might be the fix - sometimes we have just powered off, logged on as domain admin, logged off and then the user could log on.  Other times I have tried this and the user got the problem straight away and it seemed the ipconfig /release /renew was needed).
This then seems to fix the problem for a random amount of time, they might suffer the problem in a few days, a week or never.
I am struggling to see a pattern to the problem or anything particularly useful in the event viewer.  
The only possible link I may have seen is that this is potentially a DNS/DHCP problem.  A while ago, one user suffered this problem every Thursday morning for 3 or 4 weeks in a row.  This instantly made me think that perhaps it was linked to an IP address lease time.  I deleted this PC's DNS and DHCP entries and then the problem stopped for them for months, until randomly they got it again one morning.  This could have been a coincidence.
So I am not really sure where to start investigating as I am not seeing too much useful in the event viewer on the local PC.