I am trying to use the operation "GetGroupCollectionFromUse
r" in SPServices but I'm having problems getting the description (About Me) of a SharePoint group. I notice that the description (About Me) shows for the default sharepoint groups created for a site but not when I add it. It always shows empty when I bring the data back but in the UI, there's data.
See image below.
My goal is to determine what SharePoint Group a user belongs to and permission that page accordingly.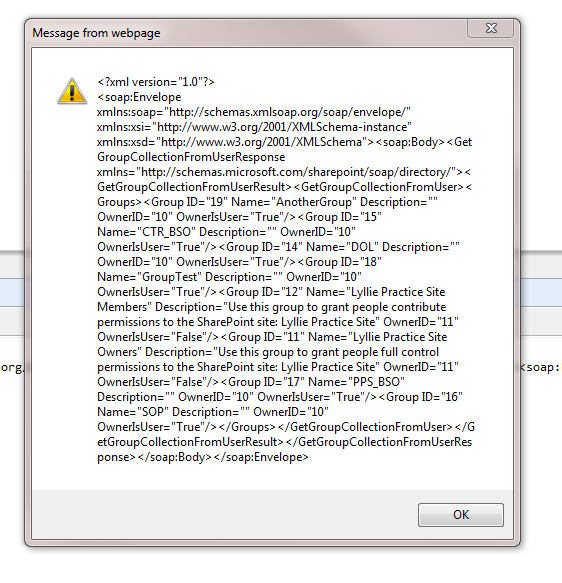 Below is my code and the
page
I have it running on.
<script type="text/javascript" src="http://isaac.issharepoint.com/practice/Assets/jquery-1.8.2.min.js" language="javascript"></script>




<script type="text/javascript" src="http://isaac.issharepoint.com/practice/js/jquery.SPServices-0.7.2.min.js" language="javascript"></script>







<script type="text/javascript">




loggedinUserGroup="";




	$().SPServices({  




	  operation: "GetGroupCollectionFromUser",  




	        userLoginName: $().SPServices.SPGetCurrentUser(),  




	        async: false,




	        webURL: "/",




	        completefunc: function(xData, Status) 




	        { 




		




		console.log(xData.responseXML.xml);




alert(xData.responseXML.xml);




	         $(xData.responseXML).SPFilterNode("z:row").each(function() 




	         {	            




			alert($(this).attr("ows_Name"));




			console.log($(this).attr("ows_Name"));




	         });




	                




	  }




	 });





</script>



Thanks for any help you can provide.