Good morning Experts,
I need your assistance using a Grid Control in an Access 2013 application. This application will be used to schedule employees to a given job.
The grid must be able to do the following functionality:
1)
I need to be able to dynamically generate the columns in the according to the job dates.
In my example (see image), I have a job that runs for 3 days (from 12/12/2014 to 12/14/2014).
In this case, the first column will always be the 'EMPLOYEE' column, but the columns that follow should be labeled after each of the job dates (i.e. the second column should be labeled (12-12), the third column should be labeled (12-13), and the fourth column should be labeled (12-14).
2)
I want to be able to select/high-light various cells in the grid, and schedule my employees to work a job only for the selected/high-lighted days.
I have included an image to illustrate what it is I want to accomplish.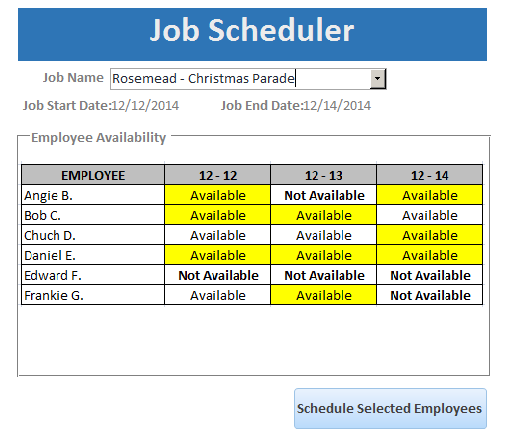 NOTE: I used Excel to simulate the grid.
How can I accomplish this?
Is there a grid control in Access 2013 that I can use for this?
Can I use a subform to achieve this functionality?
Do I need to use a third party grid control for this? If so, can you recommend one?
Thank you very much in advance,
mrotor