Hey folks,
it is driving me nuts, but I cannot delete some files on our vsphere Datastore. There is folder where we put in some iso-files to have a better and easier connection as a virtual cd-rom-drive.
However, now I can't delete some ISOs out of this. I'm really sure that they aren't assigned to a virtual machine or something else. I tried to delete them with VEEAM Backup and Replication 8.0. There is a "better" error-message than in vsphere-client...
Here is a screenshot from VEEAM error-message: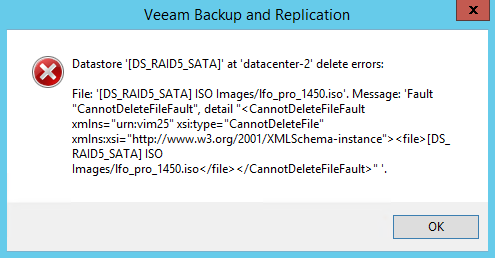 Hope somebody can help me.
Kind regards and best wishes.