I have a 2012 R2 Remote Desktop Services farm configured. There are 4 Terminal servers, and they are load balanced. TS1, TS2, TS3, TS4.
TS1 is also the broker for the farm. This is a .local domain, so I cannot use a third party root CA for a certificate.
The issue: When I RDP to the collection name, "farm1.domain.local", it throws an untrusted certificate warning. I have installed Active Directory Cert Services, and set up my own CA.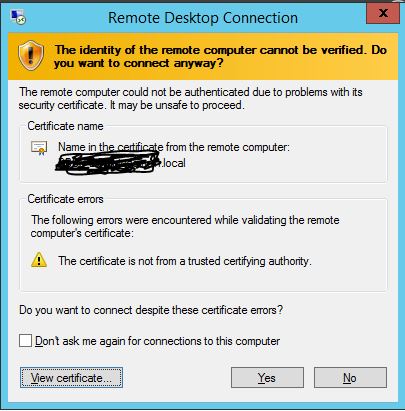 I need specific steps to create and install the proper certificates to make this farm function properly. I can't simply check the box that says, " Don't ask me again"
What I have tried, is exporting the certificate of each terminal server, and then using Group Policy to add it to the Trusted Root certificate authority, the problem is, then when users RDP to farm.domain.local, is says, certificate mismatch error, it says you are connecting to "farm1.domain.local", but the certificate shows "TS1.domain.local"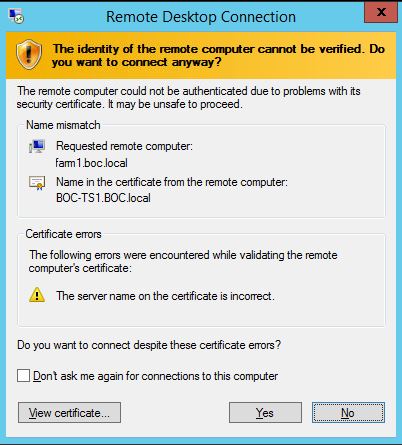 Users will connect mainly locally to the the farm1.domain.local, however, users may remote via the rdp gateway at some point to access the server. I am not sure how this will play a part yet.
Please see the screenshots attached, I have goggled this for days. Can anyone tell me the right way to do this? I need specific instruction on how to generate the certs, and where/how to install them.
Thanks!