Hey Guys -
After purchasing a Shield Portable a while back (now have a Shield Tablet), I had to change the Graphics Card in my system from an AMD one to an Nvidia one. I decided to purchase a GeForce GTX 660 2GB RAM. installed, and used it without issue.
About a month ago, I decided to upgrade by purchasing a 2nd GTX660 and running them in SLI via a hardware bridge. I purchased another GTX 660 except this time got one with 3GB of RAM which wasn't an option before, but I thought would be ok since they were both still 660s.
After installation of the 2nd card plus connecting the two via hardware bridge; SLI still wasn't working. After much troubleshooting, I found out that SLI only works if the cards are
exactly
the same - even if one just has more RAM than the other. I was still told that even with SLI disabled, I'd still have better performance than just the single one.
My Issue
Fast forward to today. I was considering overclocking my CPU a bit just to play so opened the app "Open Hardware Monitor" to record a baseline. Later, I decided to play Watch Dogs for a few minutes so as Open Hardware Monitor was still open moved it to my 2nd monitor while playing the game on the primary.
Once into the game, I noticed that only one of my video cards was being used! Below is a screenshot of what I saw. As you can see, it seems only one is being used. For exmaple, the top GPU's core is around 324Mhz (what it is for both GPUs when at the desktop) and the 2nd one's core is 1045Mhz. The used RAM seems to be similar which is strange as they have different amounts total yet show the same used %.
It actually isn't exactly during gameplay, but was taken as fast as I could minimize and take screenshot. You should still get the idea, though...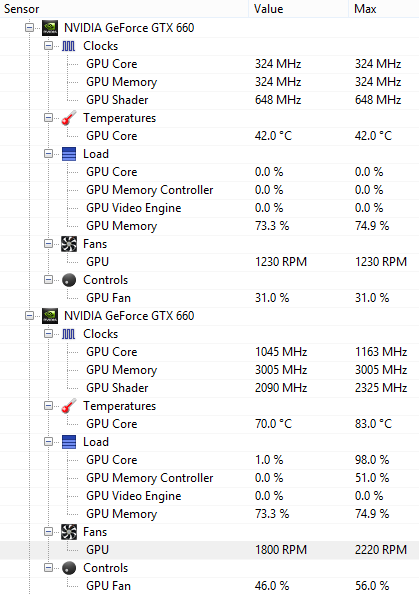 Below is a screenshot of the same thing when I had the game paused and minimized: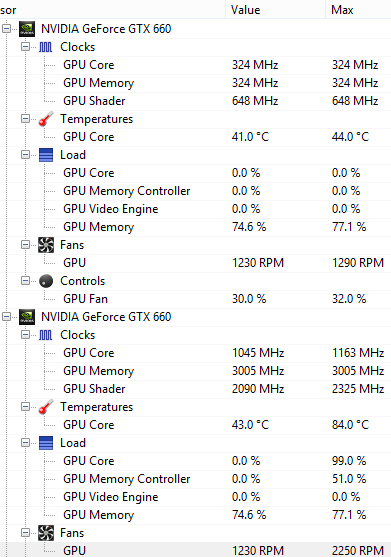 So - is this normal? Does anyone know of a method / hack / modded driver when I could get both cards to work together at all? I wondered if there was even a way to trick the 3GB card into thinking it was 2GB just so I could use SLI. Didn't know if at all possible thought driver, firmware, or even Windows mod.
Ohh - also... I'm running Windows 8.1 x64, i7-3770k CPU, 16gb RAM, and OS is installed on SSD.
Any suggestions besides starting an RMA
(if still possible)
? Thanks!