I am looking for a way to disable the Add a Network Location found in File -> Add Network Location in Windows 7. I am looking to do this via Group Policy.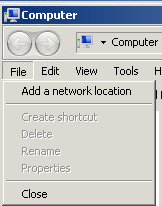 I have enabled the following GP: Prohibit Access to the New Connection Wizard (this is the wizard that appears when someone selects Add a Network Location) but I am still able to add a Network Location despite this.
Any idea where I can prevent access to this feature?
Thank you.