I recently replaced my laptop which is my primary hard drive and used as a second screen; I have a larger screen and an ergonomic keyboard attached. Prior to the change, I could use the attached keyboard to wake the computer from sleep. Now, the new Lenovo requires that I press the delicate(?) power button.
I have already tried this:
Open Control Panel and select Keyboard.
Select the Hardware Tab.
Click the Properties Button.
Click the Change Settings button.
Select the Power management Tab.
Select the Allow this device to wake the computer option.
Click OK/Apply/OK.
It did not help. As I said there are two keyboards (the laptop and the ergonomic); both devices are working properly and drivers are up to date. However, only one keyboard contains the power information allowing for sleep wake-up.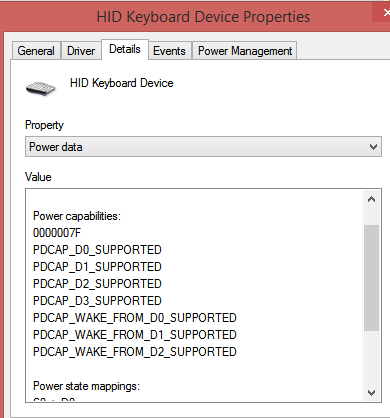 .
Are there any other nuances I can adjust? This is probably about me being resistant to change, but I do NOT like pressing that tiny green power button to awake from sleep. (Oh, and none of the keyboard on the laptop works to wake either.)