Hello all:
I am trying to do a live export of my virtual machines as an additional backup. I have 4 Hyper-v hosts all running Windows Server 2012 R2. On 3 of the 4 servers, all of the machines export perfectly. On the 4th however, only 5 of the 11 VMs will export live. I get a "General Access Denied Error"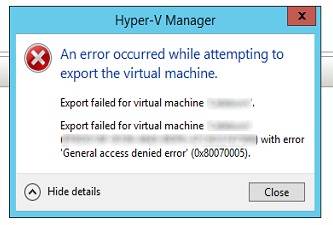 A screenshot of the Error is attached.
I have found no coloration between the machines that export and the ones that don't. I am attempting all the exports using the same user account, and the VMs are stored in the same folder on the same drive. I am also exporting them all to the same place - A USB drive, which has 1TB+ free space. Guest OS is also not a factor, neither is whether they were created on that machine or imported in.