Our company is working with a new company that has an web app that requires Java 6u16 so I figured it would be a good time to finally learn how to better secure Java in our enviroment. We currently are using Java 7u71 with a few users using Java 8u25. I have read I can run both (or all 3) version of Java on 1 computer.
I now have Java 8u25, 7u71, and 6u16 on my test computer. I have created my ruleset and signed the jar file. I also have a deployment.config & deployment.properties along with the signed jar file in C:\Windows\Sun\Java\Deploy
ment
Now on any website that uses Java I get this error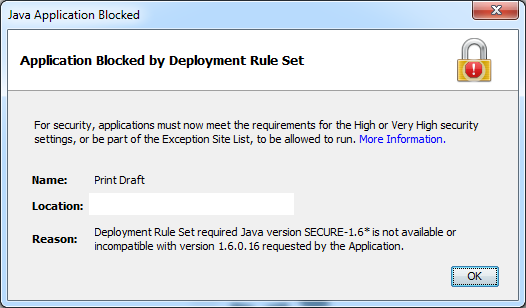 Any help?
I also attached deployment.config & deployment.properties
deployment.config.txt
deployment.properties.txt