Hello,
In my previous experience with Word (2007 and back), pressing CTRL-F brought up the FIND dialog box. Now, it brings up the Navigation pane. While the later can be useful (e.g. displaying multiple 'hits' on the text I'm searching) , there are time's I'd prefer the old school method.
For what it's worth, when I click on FIND in the upper right corner (or choose find from its dropdown menu) I get the Navigation pane. If I choose ADVANCED FIND, I get the old school dialog.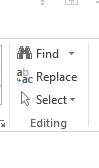 So,
1. Is there a way to reconfigure Word to bring up the old-school Find dialog?
2. If I do so, then is there still a way for me to bring up the Navigation pane manually?
Thanks,
Steve