Hi All,
I'm learning an enterprise file transfer system to replace legacy FTP methods. My main question revolves around the concept of SSH file transfers and how host keys and client keys work.
Please refer to the screenshot attachment of the transfer configuration page: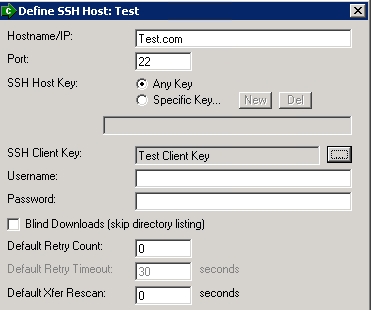 My transfer system is acting as a client and I want to connect to the host SSH server named Test.com in this example. I understand that the host key is obtained from the remote SSH server or I can choose "any key" if I want my client to accept and trust any key the host provides. I understand that this reduces security.
However, the main question I have is regarding the SSH Client Key. As I understand it, I would generate a client key ("test client key" in my example) and provide this to the SSH server admin for him to configure on his server. Is this correct? Also if a username and/or password is going to be used, is this something that the SSH server admin needs to provide to me or do I have to create the username/password? My assumption is that the SSH server admin has to provide the username/password to me which will give me access into his environment.
Hopefully that makes sense. Thanks for your assistance!