I have an issue at a client site that is driving me insane.
This client has a number of HP and Dell servers. They have an ESXi environment (2 hosts + shared storage).
The issue that is driving me insane is this:
Last year they installed Windows Server 2012 onto a Dell PowerEdge (2950)
They then installed SQL Server 2012
They setup their MSRS and other DB's
Then they had a power outage (< 5 minutes) in the building. They have a UPS but had not connected the newly built SQL server onto it.
Once the SQL server had come back on, they were not able to access the DB's or MSRS. So they called me in. The server showed the log on screen and all seemed fine. I was able to enter domain admin credentials and click Log On. And thats it. The log on never completed. Lots of hard boots but it never logged on. The server can be pinged by name and IP but nothing else works. No admin shares nothing.
I had to leave for the weekend. When I came back in to the client on the Monday, the log on was still taking place but showing the message that the copy of windows was not genuine. The client had a backup of all data so they rebuilt the server from scratch and restored the data.
One of their techs recommended a P2V to ESXi. They did a P2V of the server and ran it as a VM. It was not a heavily used SQL box.
A few months down the line another power issue occurred. This time it took down that VM. When the VM came back the exact same issues as described over occurred!!
One of their techs claimed that the issue was being caused by Server 2012. This was the only 2012 server they had. So the rebuilt the phyiscal PowerEdge with Windows Server 2008 R2 and put SQL Server 2012 on top. All worked fine.
Until last Friday. They had another power drop. I was called to site. Same deal. Log on screen shows fine. Domain Admin details entered fine. Then nothing. Looks like its loading. All the same symptoms as above.
Arrived this morning and this is showing: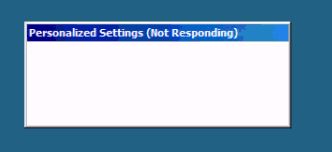 And again that server is showing:

Any ideas?
Thanks
Mark/