Hi All
I have a Data Flow task with a Lookup on two columns (id, SystemModstamp) that has three branches:
Match Not Found - Insert. Works fine when it was just this.
... and if a match is found I've just added a Conditional split to test variable overwrite_matches...
If overwrite_matches='Y', delete the matching rows (TF Delete Batch in below image), then insert.
If overwrite_matches='N', get a row count called 'no action' and do nothing.
Question:
How can I pull off the blue-green arrow in the below image, set a precedence constraint (I know, they don't exist in data flow tasks) between the #2 TF Delete Batch transform, and the Derived Column, so that the Derived Column does not execute until both have been completed?
All that's coming to mind is a Union All / Merge / Merge Join, but I don't want the stream in the #2 TF delete to impact the downstream INSERT, as that's already in the #1 stream.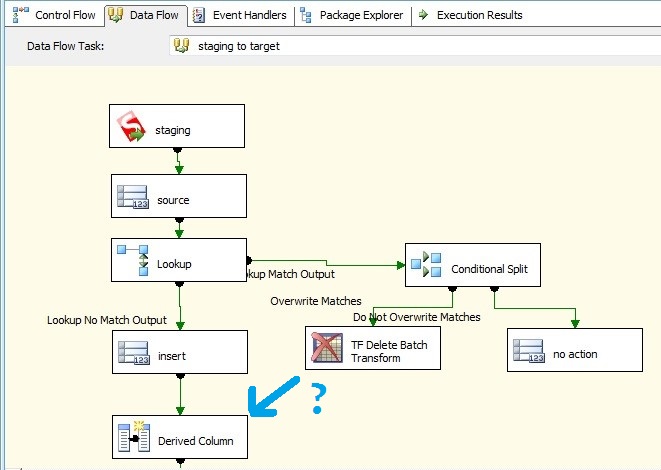 Thanks in advance.
Jim