We have an issue on our Server 2003 Remote Desktop hosts. All users are prompted with an error about not being able to load the SSL.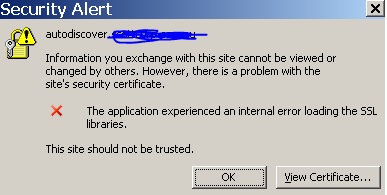 Users on our Server 2008 R2 Remote Desktop Hosts do not see this error & the SSL loads correctly.
Both host OS versions are running Office 2010 & they connect to the same Exchange 2010 Server.
Every user on the Server 2003 farm is prompted with this error every time they load Outlook.
We did recently renew our Exchange SSL in December, this seems to be when the issue first occurred.
I am guessing either the certificate file is corrupted or the renewal/new download is no longer compatible with either Server 2003 or IE8.
Any help would be greatly appreciated.