Mainly:
Should foreign company be permitted to condemn your land and seize it for their corporate goals?
yet also:
Where there is such a 'right of way' easement, is there any reason to prohibit or deny alternate use along path as well, such as for renewable source like windmill, or highway / public transportation? Or both? Or for delivery of electricity? Pipeline for water?
______________________
[optional resources ]
______________________
TransCanada begins condemnation proceedings
http://journalstar.com/news/local/transcanada-begins-condemnation-proceedings/article_986c08ce-b888-51ac-86d9-101749f7a561.html
- 6 hours ago • By NICHOLAS BERGIN | LINCOLN JOURNAL STAR [extracts]
TransCanada, the company that wants to build the $8 billion Keystone XL pipeline, filed court documents Tuesday in nine Nebraska counties starting eminent domain proceedings to get the 12 percent of easements it still needs here.
Last week, landowners filed lawsuits seeking to stop
eminent domain
and invalidate the 2012 law that gave the governor power to approve the pipeline route. An earlier lawsuit that brought up similar arguments was thrown out by the Nebraska Supreme Court on a technicality, letting the law stand by default. [While four of the seven judges agreed the landowners who brought the suit should have standing, Nebraska law requires a supermajority -- five judges -- in agreement to strike down legislation as unconstitutional.]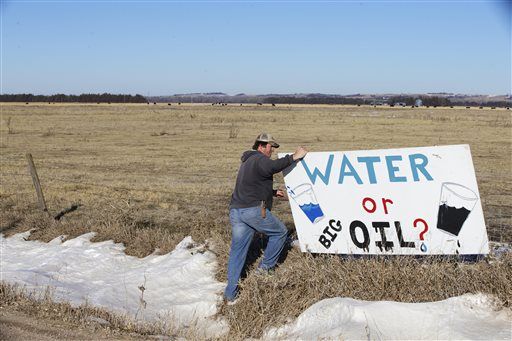 Nebraska holdouts mull next move on Keystone XL, some suing again
http://watchdog.org/193531/keystone-2/
- By Deena Winter - January 16, 2015 | Nebraska Watchdog - 35 Comments [extracts]

For guys like Jim Tarnick, 39, it's not about angling for a higher price. It's also not about hugging trees. It's about the corn and beets he raises five miles southeast of Fullerton, and the 100-head of cattle he runs over ground where
water
flows just six feet below ground in some places, or at ground level during a wet spring.
"Just a little leak could end many farm operations around here," he said.
When Tarnick learned the pipeline would come within 50 feet of his farmhouse and wells, he began fighting. He doesn't want to see his water contaminated by an oil spill, and TransCanada hasn't exactly won him over.
Tribal Leaders Tell Obama to Reject Keystone XL Pipeline, Request U.S. Interior Meeting
http://indiancountrytodaymedianetwork.com/2015/01/15/tribal-leaders-tell-obama-reject-keystone-xl-pipeline-request-us-interior-meeting-158715
-1/15/15
Several
indigenous
leaders have officially asked President Barack Obama to reject the Keystone XL oil pipeline, citing concerns about consultation, treaty rights and impact on tribal homelands.
"We stand in solidarity with our Oceti Sakowin relatives and encourage the Department of Interior to dissent from a KXL permit approval and give President Obama all the more reason to reject this dirty tar sands pipeline," said Tom Goldtooth, executive director of the Indigenous Environmental Network, in a statement. "We ask this for the benefit of the land, the water, our communities, our sacred sites, and the territorial integrity of the sacredness of Mother Earth."
The Other Pipeline You Should Worry About
http://www.nytimes.com/2015/01/17/opinion/its-not-just-keystone-xl-its-also-line-61.html?_r=0
- By DAN KAUFMAN - JAN. 16, 2015
Enbridge, a $40 billion Canadian company, which has been responsible for
several hundred spills in the past decade
, including one in 2010 near Marshall, Mich., reportedly the
largest and most expensive inland oil spill in American history
.
Pols, Lobbyists Cash in on Keystone
http://www.usnews.com/news/articles/2015/01/13/pols-lobbyists-cash-in-on-keystone-xl-pipeline
By Alan Neuhauser Jan. 13, 2015
Oil pipeline? More like a cash funnel.
The oil and gas industry, environmental groups, construction groups and building trade unions gave more than $232.3 million to lawmakers last year alone, .. And that doesn't include the $154.4 million they spent on lobbying, a figure that itself excludes money spent on so-called "strategic advisors" and other influence peddlers who are not required to publicly report their contracts or income – let alone outside expenditures by super PACs.